Introducing: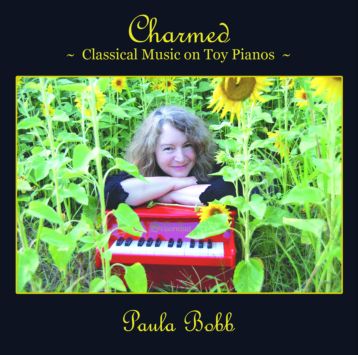 "When I play toy pianos, I feel such delight hearing the tinkling music-box sounds. They awaken the spirit of childhood within me. I get such a kick out of transcending the perceived limitations of a toy." PB
Listen to some of the pieces here:
Available for purchase!
CD $ 20 + shipping (and NY state tax, if applicable)
(or contact me if you prefer to pay by personal check.)
CD Reviews
"Unexpected.
The unique sound of the toy pianos transported me back to my childhood and conjured up other memories…glass wind chimes, carousel music and a feeling of joy. The talent of Paula Bobb is evident as she performs a wide range of melodies. I never knew these "toys" could sound like this."
Cynsie Kraines, outside of Boston.
"Stunning Originality. . . on Toy Pianos!
Review of new CD: "Charmed: Classical Music on Toy Pianos" (Tickle The Ivories Music, 2010)
The newest CD release by the gifted pianist Paula Bobb is a winner! In a world that is jammed with over-hyped "originality", along comes something so different and charming that it deserves serious coverage. Ms. Bobb, already championed for her creative programming and stunning musicianship, has brought forth a new delight to a jaded market.
The concept is simple: childhood "classics" played on toy pianos. Featured composers are Bartok, Schumann, Turk, and Heller. This is THE standard repertoire of generations of intermediate-level piano students.
Those of us who played some of these had usually long since left the toy pianos in the attic or given them away . . . if we were lucky enough to have ever had one. This revelatory recording opens our ears and our hearts to the often-forgotten charm of the toy piano. Ms. Bobb's own liner notes say it best: "I get such a kick out of transcending the perceived limitations of a toy."
Transcend she does. Not only is the music played faithfully on these toys, it is also played beautifully. If she had played on a Steinway D, the recording would be a lovely example of the beauty and charm and mystery of some of these little pieces. However, in her hands, these small gems not only have the humorous thumping of the primitive action, and the tinkling of the metallic bars, they also have thoughtful, expressive and beautiful timing. Her artistry makes the interpretation of Bartok's "I Lost My Young Couple" or "Swineherd's Dance" as unmistakable as Schumann's "The Wild Rider".
This is a welcome addition to any serious (or not) collection. Ms. Bobb is clearly an artist to watch."
Polly Schaffner, Pianist. (Los Angeles)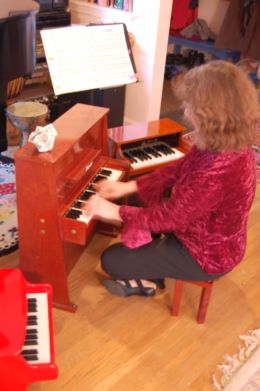 What our critics are listening to
December 24, 2010
PAULA BOBB: CHARMED. Bartók and Schumann's children's music is simply charming on the piano. On a toy piano, they're downright adorable. Bobb is a pianist and teacher at Hochstein School of Music who self-released this disc of music for toy piano. She says: "When I play toy pianos, I feel such delight hearing the tinkling music-box sounds. … I get such a kick out of transcending the perceived limitations of a toy." Performing real piano music on toy pianos can be no easy task, with tiny keys and the rough action of the keyboard (you can actually hear the extraneous noises the keys make when pressed). But Bobb is able to do so with considerable smoothness and musicality. The bell-like sound of the toy piano puts a holiday spin on these works. — ANNA REGUERO
Toy pianos are all about musical joy in Brighton
Stacy Gittleman • December 7, 2010
When you think of toy pianos, what comes to mind? I immediately envision Peanuts comic strip characters Schroeder and Lucy. Lucy is leaning on Schroeder's toy piano, which is accessorized with a candelabra. While Lucy prattles on about her problems, Schroeder tunes her out as he plays classical compositions by Mozart or Beethoven. Only in cartoons could such music come from a toy piano, one might think. Think again.
Brighton resident and piano instructor Paula Bobb was inspired to explore playing music on toy pianos after seeing such a performance 13 years ago by world renowned pianist Margaret Leng Tan. This year, after many years of tinkering with these tiny instruments, Paula decided to record her own CD of music played on toy Schoenhut pianos. for the rest of the article:
Track listing
Below are the pieces on the CD:
Bela Bartok
For Children: Part One: Hungarian Melodies
1. Let's bake something
2. Dawn, O day!
3. I lost my young couple
4. Kitty, kitty
5. The street of Istvand
6. My little graceful girl
7. Parsley and celery
8. Walachian Game (2 pianos)
9. Go round, sweetheart, go round
For Children: Part Two: Slovak Melodies
10. If there were cherries
11. Above the tree, under the tree
12. Rogue's Song (When I came from the war)
13. Dance Song (Two pigeons sit on the tower of Presov)
14. Mourning Song (In the barracks of Mikulas)
15. Highwayman's tune (Janosik is a big bully)
The First Term at the Piano
16. Moderato
17. Moderato
18. Folk Song
19. Andante
20. Hungarian Folk song (Erzsi Virag made her bed)
21. Swineherd's Dance
22. Hungarian Folk Song (Where have you been, my lambkin?)
23. Peasant's Dance
24. Allegro deciso
25. Waltz
Sonatina, movement # 2
26. Bear Dance
Alexander Gretchaninoff: Children's Book, Op. 98
27. A Tale
28. In Camp
29. March
30. Farewell
31. Horse and Rider
32. In a Woodland Glade
33. Lullaby
34. Dance
35. Festive Dance
36. A Lingering Song
Robert Schumann: Album For The Young, Op. 68
37. Melody
38. Soldier's March
39. Humming Song
40. A Little Piece
41. The Wild Rider
42. The Happy Farmer Returning From Work
43. Little Etude
44. The Reaper's Song
Anton Diabelli
45. Bagatelle
Cornelius Gurlitt
46. Morning Greeting
Daniel Gottlob Turk
47. Rondino
48. Allegro Non Tanto
49. Jesting and Dallying
50. Romance
Stephen Heller : Twenty-five Studies, Op. 47
51. Adagio
52. Con moto
~~~
I look forward to sharing this delightful music with you!
Save
Save
Save
Save
Save
Save